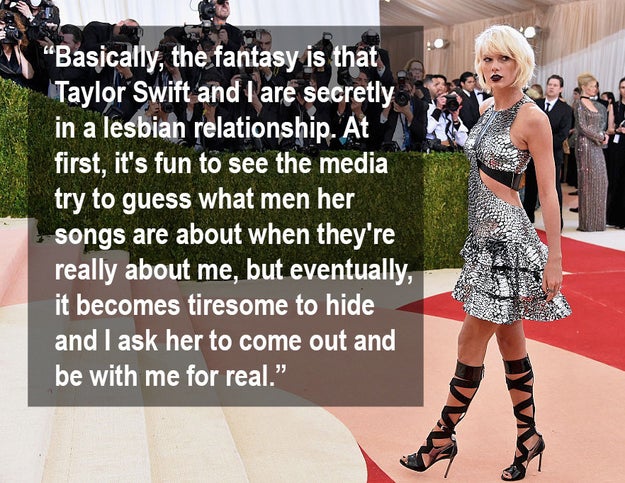 From adventurous to romantic to straight-up heartbreaking.
And honestly, the responses were downright fascinating. Here's a peek into just a few human brains:
My go-to fantasy is that I've been kidnapped. I vividly imagine the situation that would lead up to me getting taken, and what I would do after the kidnapping occurs.
—Anonymous
I am a powerful mermaid/fairy princess who knows the solution to every single problem in whatever realm I'm in. And the realms are usually whatever TV show I watched right before bed — I've been in Pretty Little Liars, The Vampire Diaries, The Originals, and many more. I even make whatever character I find the most attractive my boyfriend.
—Anonymous
This song-worthy affair:
I've had this recurring fantasy about Taylor Swift for years — I came up with it during her "1989" era, then retired it, and now that "Reputation" is out, it's back in full swing. Basically, the fantasy is that we're secretly in a lesbian relationship. I start out as an experiment to her, and we only ever hooked up when she was drunk, but she slowly develops feelings for me and we start secretly dating. At first, it's fun to see the media try to guess what men her songs are about when they're really about me, but eventually, it becomes tiresome to hide and I ask her to be with me for real. She says she can't, because she's not ready to come out, and we break up.
Months later, when her new album comes out, we're reunited when she plays a show at my college, and performs a romantic song while looking straight at me, then invites me on stage to profess her love for me in front of everyone.
—Anonymous
Mike Coppola
I imagine that I'm a down-on-my-luck artist who looks for a Sugar Daddy to get back on my feet. For a while, I only use him for the money and gifts, but we eventually fall in love and he leaves his wife (beard) for me.
—Jack
I always think back to the times when I was in college, when I was alone with my girlfriend. Nothing sexual, just her calming presence next to me. Neither of us having a care in the world other than being near each other. We are still together 10 years later, but life has changed. Everyday ailments and responsibilities pile up, and it seems like all we can do is try to survive. I fantasize about what it was like to live, not survive.
—Anonymous
This alluring post-mortem: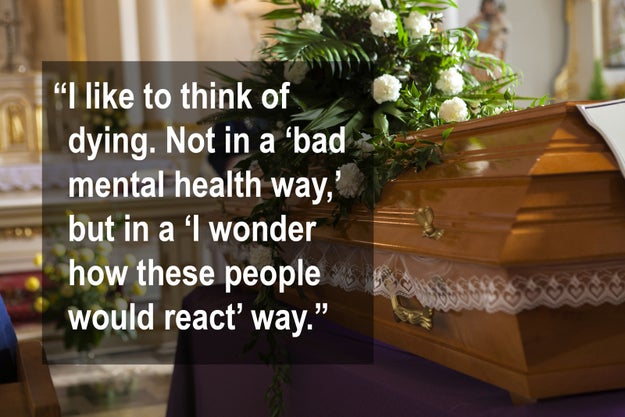 I like to think of me dying. Not in a "bad for my mental health way," but in a "I wonder how these people would react" way. I often think that I would be able to have written them letters beforehand, and those would be delivered after my death. Then I would be able to see how they feel, like how my crush would Read More
Source:: BuzzFeed – Health